Invisalign Clear Aligners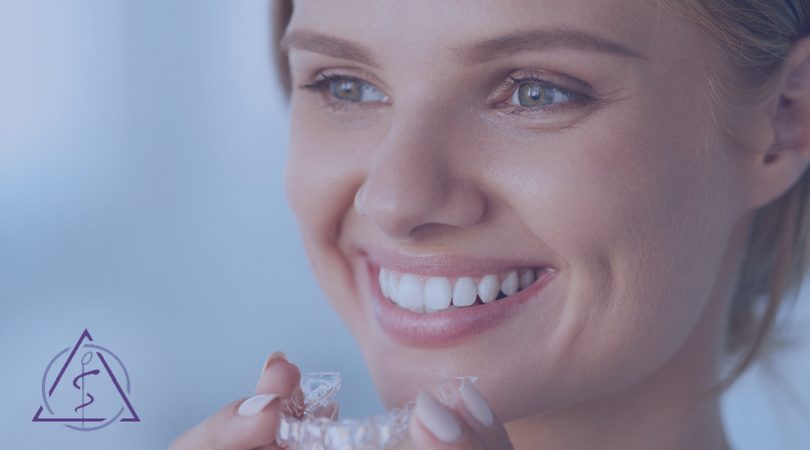 Have you wanted to perfect your smile for a long time? Are you uncomfortable with the thought of wearing metal braces as an adult? If so, you might be a good candidate for Invisalign or MTM, discrete alternatives to traditional braces.
What is Invisalign?
Invisalign is a set of clear aligners that straighten teeth gradually. Not only are the aligners almost invisible, but they can also be removed when eating, brushing, or flossing. Additionally, Invisalign doesn't irritate cheeks and gums like metal braces can, making this convenient alternative very popular with our patients.
How do Invisalign Clear Aligners work?
It's simple! When you visit us for a consultation, we'll create a treatment plan and fit you for your Invisalign aligner. This will begin shifting your teeth into the beautiful smile you've always wanted. Every 2 weeks, you'll receive a new custom-fitted aligner to further the process of straightening your teeth. Most adults are thrilled to learn that the entire process typically takes only 1 year.
Who is a good candidate for Invisalign?
Many adults are excellent candidates, including people who have:
Gaps between teeth
Over or underbites
Teeth crowding
Jaw misalignment
Abnormal jaw structure
What if I only need 1 or 2 teeth aligned?
Patients who only need 1 or 2 teeth corrected may benefit from MTM or Minor Tooth Movement aligners. MTM clear aligners function similarly to Invisalign aligners, although treatment can often be completed in just 3-6 months.
Scheduling your consultation in Methuen is easy! Simply call our office at 978.688.4441 or use our online form to schedule and appointment.